Tracklisting: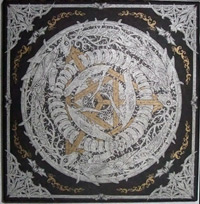 01. Enter by the Narrow Gates (6:55)
02. Spirit Narrative (2:46)
03. Way of Ever-Branching Paths (8:57)
04. The Ancestral Other Side (4:27)
Released originally as a digital download on the Band's Bandcamp website on August 23rd 2011.
These are the first 4 songs from the upcoming full length, Decompositions Vol 1. This cd was made in limited quantities for tour. (1st pressing 350, 2nd pressing 500). This is Chapter One, called Rites of Initiation.
Expertly printed by Stumptown Printers in Portland, Oregon on their own Arigato Pak design. Also comes with an 11″x17″ b/w print of all the lyrics
"Rites of Initiation documents the ill-lit, inward-leading, forever-winding pathways that eventually take hold, on a search for the authentic in an increasingly artificial world. When the boundaries between thinking and knowing, dreaming and waking, living and dying all begin to blur, a terrifyingly primal vision begins to bleed through the fragile veil of consensus perception. To surrender to it, embracing the other side is our "rite of passage". We've crafted these songs in an attempt to sing that Transition into being."