Tracklisting: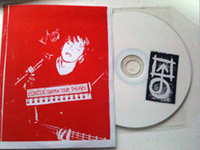 1. Our need to Bleed (3:44)
2. Eleven Owls Have Eyes (4:55)
3. A Disclaimer to the self (2:26)
4. Comes with the Fall (5:39)
5. Houdini Logic (3:15)
5 Track version of the Cdr, omiting the studio "banter" track and the houdini logic remix. Also splits Comes with the fall and Houdini Logic into 2 tracks.
As with the 6 track, no set pattern to which disk comes with which packaging seems to exist, but usually the 1 sheet version is seen with the 5 track disk.