Tracklisting: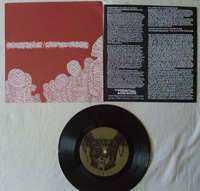 Circle Takes The Square:
1. Patchwork Neurology (3:18)
2. We're Sustained by the Corpse of a Fallen Constellation (2:52)
Pg.99:
1. Goodbye, Face (4:16)
2. Calm Song (0:57)
Pressing Info:
350 on Black vinyl
Packaging:
Uk tour edition with white ink silkscreen on red or black cardstock and a photocopied insert.
Labels:
Gold ink on black paper.