Another small update, been moving house so I haven't had time to put everything in yet. Hopefully soon there'll be some big one with all the new tour dates, and all the things I need to add to individual release pages. But for now, here's some things that arrived today:
A 2nd copy of the 6 track demo, which came with a few early patches (the corporate ID patch is really nice quality, you can make out some details you can't normally!).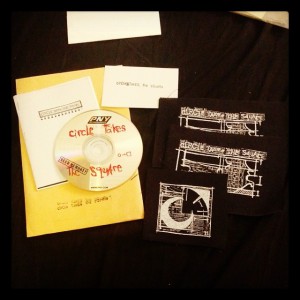 and something a bit different, I'm still tracking down the details properly, but it's got all the tracks from the hyperrealist demo, but comes on a spray painted cd with etchings on the play side. I've included my best attempt at taking a picture of the etched side. totally awesome. Hopefully have more information soon!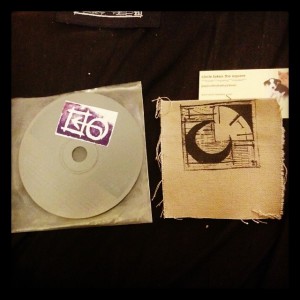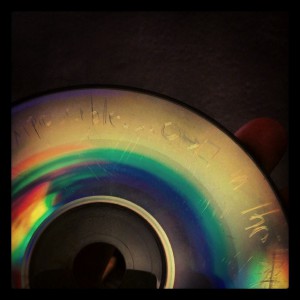 April/May tour is looking like this so far:
4/9 Pittsburgh, PA – Mr Roboto Project
4/10 Columbus, OH – Dude Locker
4/11 Chicago, IL – Beat Kitchen
4/12 Urbana, IL -Skeletal Lightning Fest / Fest Website
4/13 Milwaukee, WI – Riverwest Public House
4/14 Minneapolis, MN – Triple Rock Social Club
4/15 Omaha, NE – Slowdown
4/17 Denver, CO – Seventh Circle
4/18 Salt Lake City, UT – Shred Shed
4/19 Boise, ID – Crux
4/20 Spokane, WA – TBA
4/21 Seattle, WA – Black Lodge
4/22 Portland, OR – Branx
4/23 Eugene, OR – The Boreal
4/25 Sacramento,CA -TBA
4/26 Santa Cruz,CA – 418 Project
4/27 Berkeley, CA – 924 Gilman
4/28 San Luis Obispo – TBA
4/29 TBA
4/30 TBA
May
5/1 Pomona, CA – Aladdin's Jr.
5/2 San Diego, CA – Che Cafe
5/4 Phoenix, AZ – Nile Underground
5/6 Flagstaff, AZ – Firecreek Coffee Co.
5/7 Albuquerque, NM -The Gasworks
5/8 TBA
5/9 Austin, TX – TBA
5/10 Denton, TX – Rubber Gloves
5/11 TBA
5/12 TBA
5/13 Chattanooga, TN – JJ's Bohemia
check post at the ctts blog for ticket info and places to buy!
oh, and for it's 10th year anniversary, As The Roots Undo is currently available for free download at the ctts bandcamp!
that's all for now!